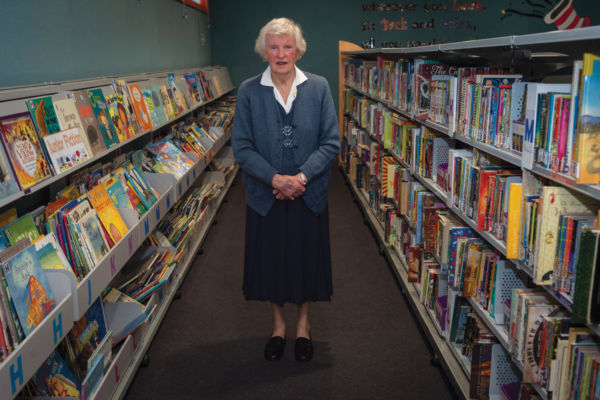 Sr Cecilia Kinsella knows her way around a school library after helping in the space at Our Lady of Mt Carmel Catholic Primary School Mount Pritchard (OLMC) for more than 30 years.
The Sister of Charity, who celebrated her 90th birthday in August, joined the order in 1952. She continues a legacy of responding to need in education that began when the Irish sisters first landed on Australia's colonial shores in 1838, though healthcare and social justice are other spaces the sisters attend to.
It's lovely work.

– Sr Cecilia Kinsella.
Sr Cecilia has volunteered her time at the library since 1985 and currently works there three days a week. She has seen the library become a space for teaching and discussion as much as quiet reading and the popularity of science fiction soar.
'It's lovely work, it really is,' she said. 'Most of the students come in every week and borrow books. Some of the avid readers are in here two or three times a week.'
Staff also use the space for meetings, teaching and prayer.
Sr Cecilia is modest about her dedication to the library at OLMC, preferring to point out the beauty in the colourful, detailed stained glass windows another nun in her order, Sr Anne, created for the school's prayer space. This opens out from a curved entrance in a corner of the library, which has undergone many physical changes in the past few years.
'This is not like the library that I came to,' Sr Cecilia said. 'When I first started we had a tremendous amount of books. At the end of last year, we got rid of some so the space could be used for other things. It has had a lot of renovations, but the story goes on.'